Our digital world has opened up so many possibilities. We have pretty much all the information we could ever hope to have right at our fingertips, thanks to our phones.
However, while phones and their corresponding apps give us so much, they also expose us to risks. As so much of our world is now online, it means we are more exposed than ever to digital theft and other malicious online activity.
Most people think cybersecurity doesn't apply to phones, but this is outdated logic. When phones were first introduced, few hackers spent time targeting them. There simply weren't enough devices for it to be profitable, but now that everyone has a phone, hackers have upped their game.
To make sure you're properly protected, we've put together this guide that outlines all the risks you face and how to keep you and your phone safe and secure.
Statistics About Phone Cybersecurity
Before we go into the specific risks, here are some statistics to keep in mind that should shed some light on why it's so important to take phone cybersecurity seriously:
The Risks Your Phone Faces
As you can see, this is no joke. But what are the risks? Here's a summary of the primary dangers lurking out there in the digital world:
Phishing and Smishing
The most significant risk you face on your phone is falling for a phishing attack. For those who don't know, phishing is when hackers try to get you to willingly give up personal information or login details so they can either steal from you or access data they're not supposed to access. It's part of a broader scheme known as social engineering, which is essentially one person's attempt to get another to do their bidding.
Most phishing attacks are difficult to spot. Hackers will send you messages that appear to come from a legitimate source, hoping you will fall for the trick and provide them with the information they want.
Phishing is not unique to phones. It happens on desktop devices too, but people are three times more likely to fall for an attack on their phone than on another device. A big reason for this is that it's so easy to click something accidentally on the phone. Touchscreens mean you can easily tap a link you're not supposed to, and sometimes that's all it takes.
Another form of phishing is Smishing, which is exactly the same thing except the attack is sent through a text message. These are particularly dangerous because most people aren't aware they exist. They get a text and aren't sure what it is, so they click, and then the damage is done.
We'll discuss how to avoid a phishing attack a bit later on, but as a general rule of thumb, if you get a text that looks weird and contains a link, don't click it!
Malware
The next biggest threat is malware, which stands for "malicious software." Again, this is not specific to phones, but there are a few extra added risks for you and your phone.
Malware is a catchall term for the many different types of malicious software you can download. The three main types you need to look out for on your phone are:
Ransomware
As the name suggests, ransomware takes your phone hostage and demands a ransom. A common tactic used by hackers and other cybercriminals is to make it seem like they've acquired compromising information about you. They may claim that you broke some law or that you've been targeted by a law enforcement agency and need to pay them money to help you get out of trouble.
Ransomware is effective because it looks terrifying. In most cases, you will be completely locked out of your phone, which is already scary, but then when there is a message telling you that if you don't pay money or give over some information, you're going to be arrested. That tends to have an impact on people!
If you wind up downloading ransomware, don't panic. The easiest solution is to boot your phone in safe mode and do a factory reset of the device. Of course, this will result in total data loss, so if you don't have your photos and other media saved, they will be gone. If you don't know how to do this or don't want to sacrifice your stuff, you can bring your device to an experienced tech professional, and they can help you try and get rid of the malware without losing everything else.
Spyware
Another type of malware that is less obvious but arguably more dangerous is spyware. This is different because it makes its way onto your phone and does damage without you even realizing it. It works in the background and "spies" on you, stealing whatever information it wants from other areas of your phone.
This is dangerous because we store so much personal data on our phones. For example, many people have mobile payments (Apple and Google Pay) set up, and spyware could get hold of this financial information. There are also mobile banking apps that store our passwords, not to mention email.
By nature, spyware is difficult to spot. Sometimes, it may interfere with your phone's functionality, though sometimes this interference can be very slight. For example, you may notice that your Google search results are off or that you can't ever fully close an app. Other than this, the only way to know if you've got spyware is if something happens, which means that by the time you realize you've got this on your phone, it's already too late.
Don't be scared. If you follow the tips we will discuss in a moment, you can easily avoid downloading spyware and can keep your phone safe.
Malicious Apps
Apps are a big reason why we use our phones so much. They are easy to use and convenient, but they can also be dangerous if we're not careful. All apps that we download require us to grant them specific permissions. With legitimate apps, these permissions are needed for the app to function. With malicious apps, they only serve to give the app access to parts of your phone that it doesn't need to access.
In general, this is more of a concern for Android users. Android is open software, meaning anyone can build an app for it. Its app store, Google Play, doesn't vet apps and instead leaves it up to users. This means there are more apps, but it also means that there are a lot more malicious ones. On the other hand, Apple is much stricter about which apps it lets on its App Store. Only those it has verified make it on the platform, which means it's quite unlikely you will download a bad one.
However, no matter which type of device you use, it's essential to do your homework about the apps you're downloading and always make sure you double-check which permissions you are granting upon installing it on your phone. As is often the case with cybersecurity defense, when in doubt, don't click!
Man-in-the-Middle Hacks
One of the reasons mobile phones are so prone to hacks is that they constantly connect to different networks. Most of us leave the WiFi setting turned on, and we are often quick to join a network when we are in a public space to conserve our precious data allowance.
However, the risk involved here is that these networks are often insecure, meaning people can use them to access your phone. If cybercriminals do this, they can spy on your communication – emails, texts, phone calls, etc. – to try and get some valuable information. This is why it's called "man-in-the-middle." It's as if someone is standing in between you and the person you're talking to.
Avoiding this is pretty easy if you're vigilant and follow the steps we're about to outline, but just because it's easy to prevent it doesn't mean the risk isn't severe.
Identity Theft
Lastly, the biggest thing you need to worry about when it comes to cybersecurity on your phone is identity theft. Again, this threat is not unique to phones, but since so much of our lives are stored on them, it's arguably easier for a hacker to commit full-blown identity theft by getting into your phone.
Having your identity stolen is a nightmare, to put it lightly. You can have your credit cards hacked, or they can open new ones in your name, or they can grab money right from your accounts. It's often difficult to prove identity theft, making it challenging to recoup whatever you lost due to the theft.
This shouldn't scare you but rather remind you why it's so important to take this seriously. Not doing so can have some pretty dramatic consequences.
How to Keep You and Your Phone Safe
As you can see, there is a myriad of risks you face while using your phone. Fortunately, you're not defenseless. In fact, there are quite a few things you can do to make sure you stay safe. Here are the most effective tactics: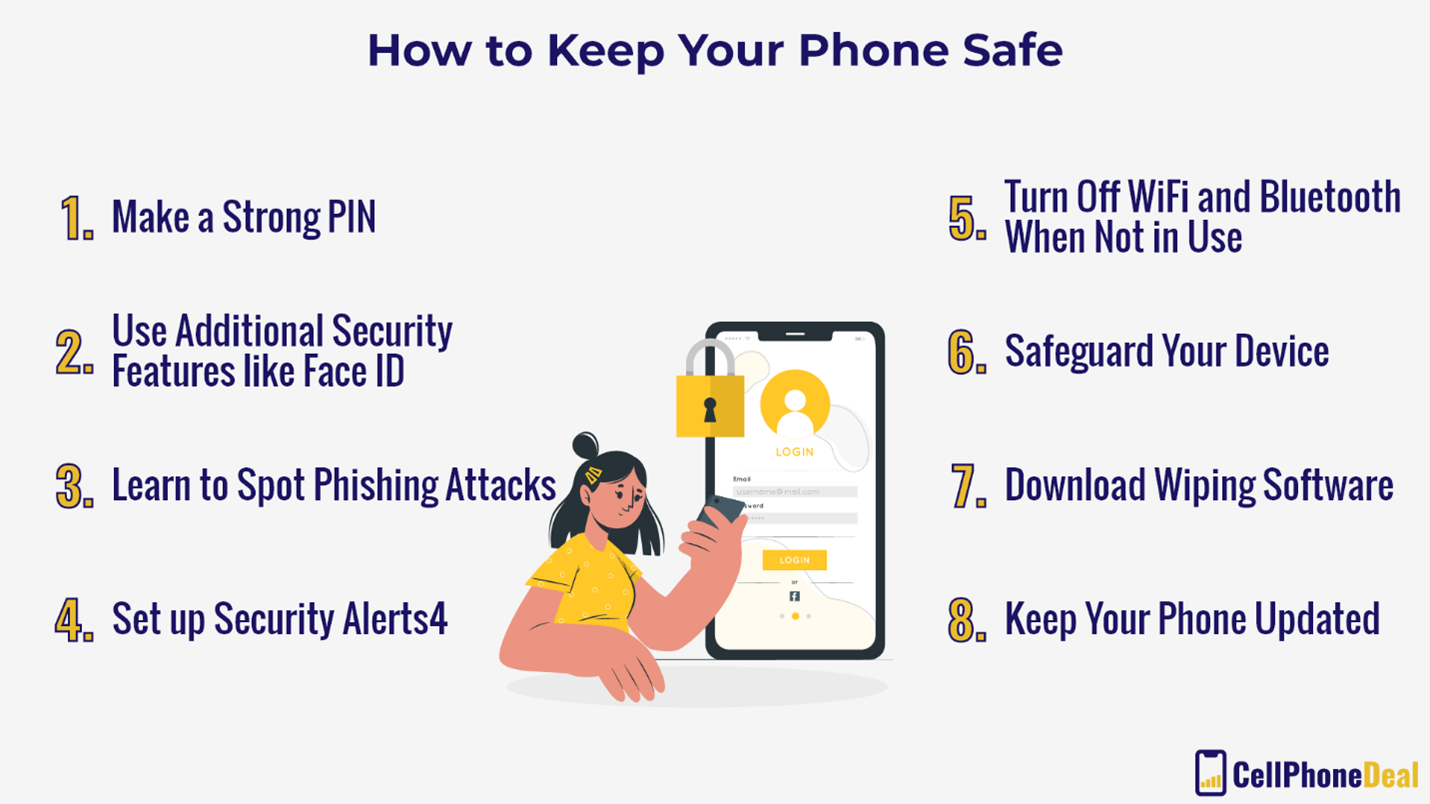 Make a Strong PIN
The absolute first thing you should do is to set a PIN and make it a good one. This is so important because many devices are set up not to allow anything to make changes unless that PIN is entered.
Therefore, if you don't have one, you're making it easy for hackers. It's kind of like leaving the front door of your house unlocked. At that point, if you get robbed, you were almost asking for it.
However, it's not enough to just set the PIN. You need to make it a good one, i.e., one that is difficult to guess. That means don't choose 123456, or 111111, or your birthday. Make it a number that you will remember but that no one else would know. And then don't tell anyone what it is! That's the only way to make sure it's fully secure.
Use Additional Security Features
Many phones now come with additional security features, such as face identification or fingerprint verification. While we can debate what using these features means for personal privacy, the reality is that they are highly secure.
No one can get in your phone or make changes to it unless you are there to allow them in. Since you're not going to let someone in that you think will steal from you, this is a pretty good way to keep your device safe.
Most newer models come with some version of this feature, and if you're looking to be as secure as possible, give serious consideration to using it.
Learn to Spot Phishing Attacks
As we mentioned earlier, one of the most common and most dangerous threats you will face is phishing. Unfortunately, since phishing attacks you, there aren't many things you can do to keep yourself safe except to learn how to spot a phishing attack.
There are no hard and fast rules for this, but some things to look out for include:
Messages asking you for login or financial information – Most companies won't outright ask you for this, so be skeptical when they do.
Incorrect URLs – The links they use are bad, so the URL will be slightly off. Sometimes it's just one or two letters, so it's easy to miss. Always double-check where a link is going to take you before clicking on it.
Wrong email address – If the attack comes through via email, double-check who sent it. Again, hackers can't use the actual address, so something is going to be off. If it's from a company or organization with which you're connected, check back to a previous message to see if it matches.
Dramatic messages – If you get an email that makes it sound like the world will end if you don't hand over some of your information, this is probably a scam. Don't fall for everything you hear, and always be skeptical. When in doubt, double-check.
If it sounds too good to be true, it probably is – If you get a message that offers you something incredible in exchange for not much, be skeptical and question it. Remember, nothing comes for free in this world, and the same applies when you get a random message in your email inbox.
If you're worried that you still might not be able to spot phishing attacks, check out this tool from Google that tests your ability to identify bad emails. It's good practice so that you don't make a mistake on your own device.
Set Up Security Alerts
Most apps that deal with our personal information have an alert system that notifies you when there is suspicious activity on your account. If this feature exists, we recommend you set it up.
Of course, this is a reactive strategy, not a proactive one, since it only tells you after something has happened. Still, it's better than nothing. Many places, particularly financial institutions, will not hold you liable for charges it's identified as potentially fraudulent that actually are.
Turn Off WiFi and Bluetooth When Not in Use
Although it's a bit of a pain, try to get in the habit of turning your WiFi and Bluetooth settings off when you're not using them. This will prevent you from connecting to networks you don't want to, reducing the risk of someone gaining access to your device through an insecure connection.
Safeguard Your Device
No one wants to have their phone stolen, but your phone's physical security is critical to its cybersecurity. If the actual device gets into the wrong hands, they can find a way to bypass your security system and do whatever they want with your phone.
Of course, this particular strategy doesn't require much; most of us keep our phones on our person pretty much at all times. However, you should make sure never to leave your phone exposed in public locations. It's all too easy to leave it charging at the airport or in a restaurant. However, while you're away from your device, there is no way to know who is making a pass at it. Better to have a dead battery than your identity stolen, right?
Download Wiping Software
Sometimes keeping your device safe means setting up ways to minimize the damage should something happen. One of the ways you can do this is by installing "wiping" software onto your phone.
These programs can be accessed remotely and instructed to wipe your phone. This way, if your device falls into the wrong hands, you can at least get rid of the data on it and minimize the damage caused by the theft.
Again, this is more of a reactive strategy than a proactive one, but it's a smart thing to do if something happens. It's no fun loosing your phone, but this way, you can at least be sure that's the only thing you lose.
Keep Your Phone Updated
Lastly, it's vital you have the latest version of your apps and operating system installed on your phone. No system is perfect, and so when something makes it to consumers, there are always flaws. Developers hope that hackers don't figure out the weaknesses before they can get out an update.
What this means for you, though, is that if you don't keep your phone updated, you are going to be vulnerable. Yes, it's a pain to have to update, and yes, updates to older phones can slow them down (certainly a questionable practice from phone makers.) Yet, in the end, installing these updates is the best way to protect your device, and that's what's important.
Enjoy Your Phone Safely
While phones were once exempt from cybercrime, this is no longer the case. There are multiple threats to consider, and not doing so can have grave consequences. Fortunately, you can protect yourself if you take this seriously and spend some time putting into place the many defenses we've outlined above. Once you do that, you can use your phone with peace of mind about your security.