It feels as though smartphones run the modern world, and there is some truth to this. Having a smartphone is effectively a necessity to work, live, and stay connected with everyone else. People use them for hours each day, sometimes without even noticing. That means that smartphone technology is important, which warrants attention to the latest and greatest models. What will be releasing soon? What future technologies or incremental changes can we see even later this year?
We tried to find as much information as we could on upcoming phones; however, not everything is available. It's not until reviewers and consumers can get their hands on the product that we know exactly how useful and advanced they are. And because phones are advancing so fast and because we use them so much they can wear out, most of us need to replace them every couple of years. If you are planning an upgrade, we suggest that you do research now and then once again when the phone is out in order to give yourself a clear picture.
Also, note that new isn't always cutting edge. The best developments can instead be a mastery of features already made. This makes phones in general cheaper and raises the bar for all phones in the process. The best phone of today will be mid-range in a few years. That same phone will be the standard a few years later than that. Even the bottom rung of phones today would amaze people a decade ago. That trend will most certainly continue.
With all the above noted, here are some of the biggest smartphone releases that we expect to happen in 2021, in no particular order: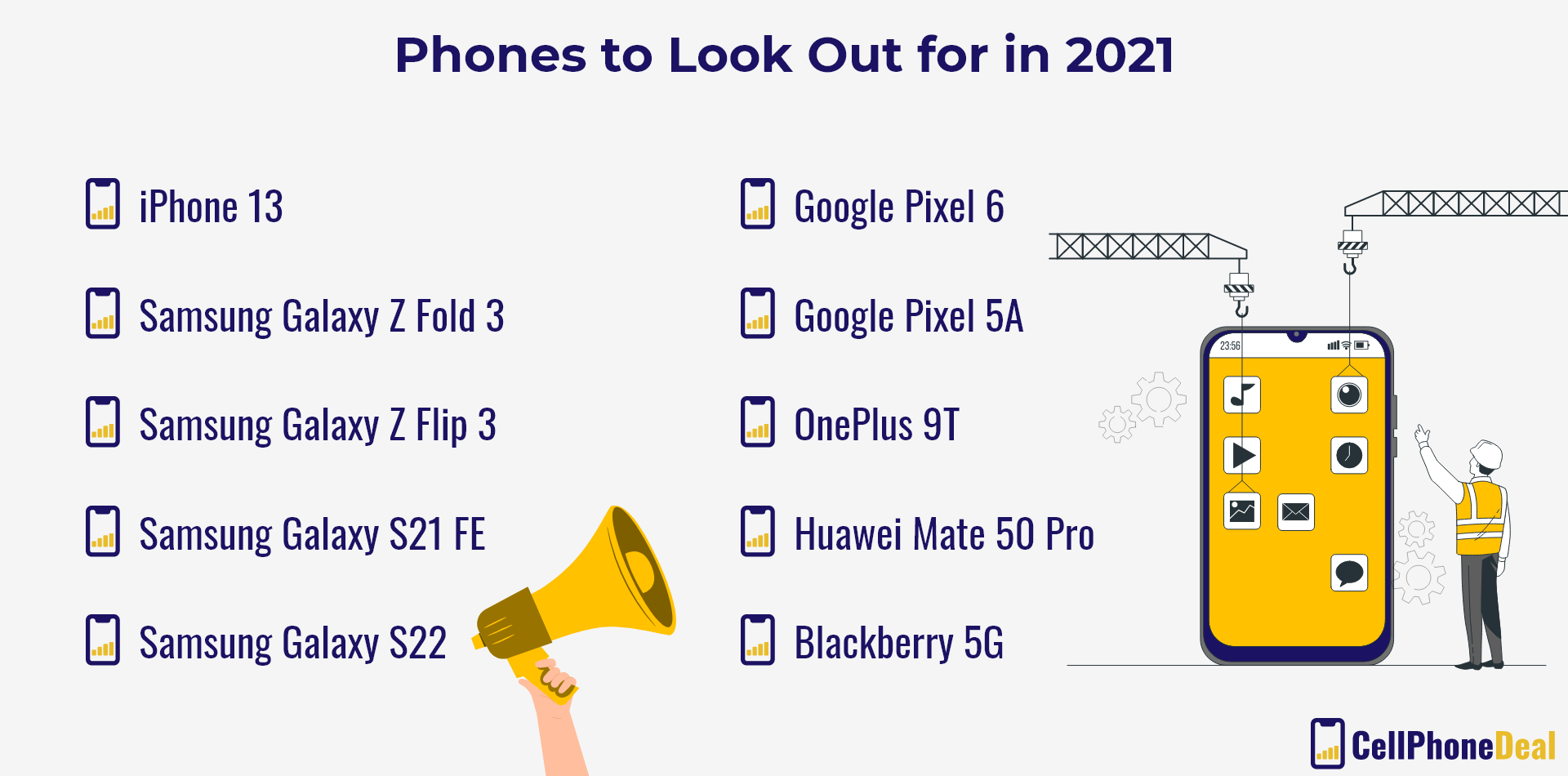 iPhone 13
The names might vary and there will be a range of different models for people with different power and screen size preferences, as there have been for many generations at this point, but overall we are going to see a new set of iPhones in a few months (likely September). Still, while we have a general idea that they will be releasing in September, we do not know all the details so far.
What can we expect from the latest iteration of iPhones?
We can expect the usual improvements, with more power than the previous model balanced with better screens.
Apple will be sticking with the Lightning Connector, and they are unlikely to switch to USB-C anytime soon.
Pricing will be relative to that of the iPhone 12 range, going from about $700-$1100.
The speaker may be moving towards the top of the device, and there may be a larger camera module or area.
The Pro version of the iPhone 13 will still be keeping the same resolution it seems, but there might be a higher refresh rate, which will be helpful as videos get more sophisticated and mobile gaming becomes more visually interesting.
Storage will improve, but will still have a range available. Expect the array already available in iPhones plus perhaps a larger option later down the line.
Cameras will improve as expected, with a new diagonal camera arrangement and better focusing features. The pro series will likely have autofocusing options, as well as an ultrawide lens. It should be noted, however, that the larger camera set up in the 13 line will also mean that the phones are thicker than previous models.
With iPhones often known for their short battery lives, the 13 line will have some improvements to their battery technology, though to our knowledge the improvements will not be substantial.
In general, even with the inevitable iPhone 14 to come next year, we can expect the iPhone 13 line to bring significant improvements, and everyone expects iPhone 12 owners might want to consider an upgrade.
Samsung Galaxy Z Fold 3
In truth, we do not expect this phone to get as much mainstream attention or maximum engagement as with most of the others here. Nonetheless, it's an important development and a step forward for potential phone technology. The Fold 3 is without a doubt the best foldable phone and is a good deal tougher than its previous iterations (this was a significant problem), adding more water resistance and a display that can take some more abuse. It also features a Snapdragon 888 CPU and 12GB of ram, more than enough for nearly every smartphone task of today. And when the display is expanded or folded out, you will basically be working with a tablet.
However, the future brings with it a few disadvantages which you should know about. The Fold 3 is reported to be heavy and bulky compared to other phones and might weigh down your pockets a little. In addition, it might not provide all the value for your money compared to the competition. Users have to be ok with paying for the foldability and larger total display.
If successful and progressed further, we can see phones that are either more portable or have larger screens than today's models, perhaps with better battery life and additional benefits. We are just as excited to see what comes next as we are for this phone itself.
It is expected to release on August 11th, meaning that it has just come out by the time you read this. It might be hard to get ahold of one based on initial popularity, but at least keep an eye on it to know whether you are going to get one. It also happens to be expensive, even for a top-of-the-line phone (it is about $1799 at launch), so be prepared to pay quite a bit for novelty and increased screen size and capabilities.
Samsung Galaxy Z Flip 3
Samsung is also working on the Galaxy Z Flip 3, which is effectively a cheaper alternative to the above Fold 3. Smaller and lighter, many people will like it on the go and find it a better "real world" phone.
Reviews already state that it is an excellent phone for taking photos, though the camera doesn't match up to the absolute best offered by Apple or even Samsung itself (the Galaxy S21 Ultra and the upcoming Samsung phones have it beat). But it is easy to take snapshots and you can get a preview via the cover screen. Better yet, its portability and shape have been noted to allow it to be put in more places to take photos. Creative usage of this phone is sure to yield fantastic results.
It is to have an in-screen camera and the foldable screen for which it is best known. In an interesting (and in our opinion, genius) design choice, there is also a cover screen on the phone, allowing someone to check things such as the time, basic notifications, and even provide basic commands to the phone without opening it, making it great for people on the go. It's a lighter phone than the Fold 3, and slightly less powerful in several areas with a bit less main screen real estate. Think of it as a somewhat cheaper, more portable brother to the Fold 3.
It was released alongside the Fold 3 and, depending on when you read this, should be available to consumers in the same venues.
Samsung Galaxy S21 FE
The Samsung Galaxy S21 FE is not the most noteworthy phone of the year, but an excellent upgrade for many. It is rumored to be an effective follow-up to the S20 FE and a more affordable alternative to those who want an amazing phone but can't afford the latest and greatest. The S21 FE is to be one of those future phones that simply master what we have already, making the inaccessible accessible.
In general, the following is rumored about the phone:
It is to be slightly wider and taller than the S21, with a display of about 6.4 inches.
It is likely to have a Snapdragon 888 chipset, though this may vary based on the region where the phone will be sold.
Depending on the release date, it may come with either Android 11 or Android 12.
It is likely to host either 6GB or 8GB of RAM.
In terms of the camera, we are to get a triple-camera setup, with multiple lenses for ultrawide shots and a front-facing camera for selfies. The main lens is reported to be 32 megapixels.
With all the above noted and based on the history of the line, the S21 FE will be a streamlining of the series and a relatively affordable option for many, being a mid-range upgrade that will last people for years if the current information is to be believed.
It will likely be released in October of 2021, and while we cannot confirm any exact dates, the difference between the announcement date (September) and release date (October 2) of the S20 FE tells us a lot.
Samsung Galaxy S22
Last up for what is looking to be Samsung's very busy 2021 is the Galaxy S22 series, which is expected to be the flagship of the year for the company and one of the best phones (if not the outright best) available at launch. There will likely be the S22, the S22+, and the S22 Ultra, each with its own slight variations and specs.
While details are only just being leaked and the phones could change, here is what we generally know so far:
The S22 will likely have a 6.06-inch display. The S22+ will have a 6.55-inch display. Finally, the S22 Ultra will have a 6.81-inch display.
Battery life or size in general among the models is not expected to increase much. Whether the systems can be more efficient to make up for this remains to be seen.
All of the models are purported to have 120Hz refresh rates, making everything look smooth as silk. We hope this will be the norm for phones in the future.
The cameras are looking next-gen and amazing. The S22 Ultra in particular is said to have a 108 MP main camera with a range of extra lenses and features on top of that. We can't wait to see the photos that come out of this phone.
While there was supposed to be a newer in-house chipset to come with the phone, the chip shortages have affected production and the S22 series will likely use the Snapdragon 888 chipset.
It might not be the largest leap forward for Samsung's flagship, but there are some major changes and will be a great iteration. When it releases later this year, we will see if consumers think it is worth the price tag.
Google Pixel 6
The Google Pixel series is the tech giant's attempt to enter the smartphone market and secure a place for themselves. While they do not need to prove Android's dominance in the marketplace as it's on practically every phone not created by Apple these days, Google has always been interested in hardware.
With their regular releases, we expect the Google Pixel 6 to release later this year. The Pixel 5 line made great strides in the market and became more popular than many expected, and we expect nothing different here. There will almost certainly be a normal Google Pixel 6 and a Google Pixel 6 Pro, which will feature a better camera setup, a larger screen size, and more RAM.
What is interesting about the Pixel 6 and Pixel 6 Pro is that they will be using the custom and new Google Tensor. This is a chipset designed to make these phones the fastest and best yet, at least from Google's product lineup. Otherwise, the models feature a sleek yet classic-looking design. They will also come in plenty of colors to meet your heart's desire (though most people will put them in a case anyhow, and rightfully so).
On top of the chipset and design, the Pixel 6 is going to go in more on machine learning and AI options, which could affect photos, the user experience, and more. And since these are system processes and not strictly related to hardware, updates could make the Google Pixel 6 the phone to beat in many regards.
Based on the website for the Google Pixel 6, the phone (and its pro version) is expected to release in Fall 2021.
Google Pixel 5A
As something of an alternative to the Google Pixel 6, there is the Google Pixel 5A, which is a slight improvement or variation of the Google Pixel 5 that is an affordable alternative to many of the phones on the market today.
The number of changes compared to previous models, especially the 4A, are relatively few. This is another phone that focuses on making great features affordable as opposed to utilizing new hardware that sets a new standard. The chipset is about the same and it will likely have the same amount of RAM, making one wonder what the difference will be. In this case, it will be a slightly larger display and a 20:9 aspect ratio more advanced smartphones are using. It will also likely get the new Android 12, though this will be the case with many phones eventually.
As of this writing, the Google Pixel 5A is getting released on August 26th, so you should be able to get your hands on one or get more full reviews on it after you read this (though the supply chain issues are making options limited). It is generally available at an affordable $449.
OnePlus 9T
The Chinese brand OnePlus might not be the most well-known in the United States, but that does not mean they are not making strides with their own phones. The "T" versions of their phones are usually incremental in their upgrades compared to the general model, and the OnePlus 9T is expected to be no different. Unfortunately, there are not too many hard facts or even solid rumors out on the specifications, so all most can do is speculate.
However, it will be interesting to see how the OnePlus 9T handles apps with its notable hardware, and whether there will be continued throttling of certain popular apps on its phones, which could affect performance and buying habits despite the steps forward with the hardware. There is some goodwill to make up among many consumers and critics, and people will be watching. It is entirely possible that OnePlus will focus mainly on India and China for its release (at least at first), as it is doing with the OnePlus RT9.
While we do not have a release date as of this writing, historically the T series has been announced in September or October, with it going on sale shortly after that. In terms of price, we expect it to be slightly less than the other flagship phones listed here, but still relatively expensive.
Huawei Mate 50 Pro
Another major release from China, the Huawei Mate 50 Pro is expected to be the newest part of their mainline and will be a flagship for the company. The Mate 40 was a relative hit in 2020, and Huawei will be seeking to follow that up.
In truth, we cannot say too much about the specifications of this new series. There is already a lot of misinformation about the phone. Just a quick search found outlets trying to guess at the exact specifications without too much evidence. What we can expect is that once it does release, it will push the bar forward when it comes to mid to upper-range phones. This in turn will give consumers another strong alternative with great displays and excellent hardware.
However, like a few other phones, the Huawei Mate 50 Pro might not actually come out this year. The company might want to push their P devices more or give their products more development time. Huawei might also be having trouble sourcing parts for the phone or having trouble manufacturing it. Whatever the case, a delay is possible and Huawei might want to wait until they have all issues under control.
Blackberry 5G
While not too much can be confirmed at the present, Blackberry, which was once at the top of the world when it comes to smartphones and cell phones (especially secure ones used by professionals), may be coming back. The company is working on the Blackberry 5G, which was at first planned for an early 2021 release. This has since been delayed, but there is a strong chance we'll see it before the end of the year.
Note that the phone will not be made by the original developers but by a separate company, OnwardMobility, which has purchased the brand. However, the spirit of the brand still lives on from what we know so far, and the inclusion of a physical keyboard alone makes it worth noting in today's market. Outside of this, we cannot say too much for certain, though it can be expected to have 5G support and have specs on par with current smartphones. Based on what the company is saying, it will try to capture Blackberry's old audience. As a result, this will be a secure and productive phone by all accounts.
And while the phone is likely going to court the old audience and maybe some new users, there is a sense that the design and function of the phone are trying to blend old and new. How successful the changes will remain to be seen and will depend greatly on how good the keyboard feels in hands of users. It might not be this phone that makes the difference, but the next one once the 5G has gained a reputation for itself.
Based on what we know, the Blackberry 5G (or whatever the name is at release) will release towards the end of the year and will cost somewhere between $800-$1000.
General Topics and Improvements
While we do want to primarily provide you with information on actual phones releasing this year, improvements to phone technology are not limited to singular phones, and can instead be measured by infrastructure improvements or things such as new innovations and building materials. While we can't go into everything, here are a few things to take note of:
Improved 5G Access
While a phone being able to utilize 5G technology is becoming increasingly important, it's no good if the 5G signal isn't there. The last year and previous months have shown 5G becoming accessible in select and test areas, in the coming years we will only see further expansion with increased internet speeds allow for more phone functionality. And as 5G comes in, 3G and 4G technology will be fazed out over time.
More Durable Phones
While many people might think that smartphone manufacturers are not making them as they used to in terms of durability, the opposite is generally true. Materials are getting stronger and phones can better resist drops or potential water damage better than ever before. With some designs, there might be a tradeoff, but overall there are improvements. You should still use a case for your phone, of course, but with modern materials, phones can now survive a fall they otherwise wouldn't.
Improved Apps and Increased App Functionality
As the phones above and others of the future get more tools and more advanced features, apps will be able to take advantage of them. Think of the inconveniences and limitations you have now because the camera just isn't good enough or because voice recognition isn't perfect. As those functions improve, apps will be better as well. This, in turn, will make smartphones more useful.
Increased Connectivity
Here we are talking less about the speed of the connections a phone is capable of (most are doing just fine now) but instead the devices they can connect to. As more devices have internet of things (IoT) functionality, more phones will be able to connect to standard household devices. This is likely to occur mostly independently of smartphone technology, but we can also expect more phones to be designed with increased connectivity in mind.
Flips Phones Will Return
People want bigger and bigger screens, but pockets can only accommodate so much and people don't want to carry around tablets everywhere. The solution is the return of the flip phone, which we are seeing a bit with some of the phones above. Foldable touch screens will need to be perfected first, and there may be some design hiccups in the process, but inevitably we will see collapsible phones with all the functionality of smartphones today, and perhaps larger screens in total as well.
A Few Additional Notes
While we want to provide as accurate information as possible, the fact is that any of the above can change, whether in terms of specifications or terms of a release date. We are still in the middle of both a pandemic and a chip shortage, which make it difficult to ship and manufacture phones on schedule.
Also, as a result of the chip shortage and other issues, phones might be more expensive than what is expected or first reported. While there are likely to be some available to subscribers to data plans and the like, costs might rise due to reduced supply.
There are most certainly additional phones to be released this year as well. It was a difficult decision to whittle down the candidates, but we decided on the above based on the criteria of potential impact to the industry, expected popularity, and innovation.
Much of phone production and development is secretive. There could very well be a revolutionary technology in the works to come out next year or even sooner that we simply do not know about yet.
Some of the above phones might be more experimental and conceptual, and while we left out many of the concept phones that are unlikely to ever hit shelves properly or reach your hand (this year or never), it is possible that some phones might never be available in your area or be highly limited. Again, companies are having to make hard decisions about production due to a chip shortage.
While the hardware once released is unlikely to change, software on phones is liable to change at any time in the age of near-instant downloads and mobile internet. The experience on launch can be vastly different from what happens.
Conclusion
Smartphones are perhaps the most life-changing invention and development of the last two decades, for better or for worse. There is no shortage of new models, and likely by the time you read this, there will be even more new phones announced that bring the industry forward, even if only incrementally. Some of the above might already be out by the time you read this, waiting for new users to try them out. Others may be only prototypes or limited releases. Whatever your interest, however, we hope that you have found something of interest and something to follow. It's a complex and changing field, and certainly, one worth watching.